Honking for equality
Last night, I joined my friends Adriana and Dawn on the corner of Ted Williams and Pomerado in scary, scary Poway to hold "No on 8″ signs for the folks stuck at traffic lights during rush hour. Adriana and Dawn live there, in the belly of the beast, and have had their "No" signs stolen from their lawn repeatedly. (Of course, this sign-stealing has been going both ways. But it's illegal. And not nice. And it makes whoever does it an enemy of free speech. You have every right to free speech, even if you are an ignorant bigot. That's what we should all have learned from Stokie, Illinois.) Apparently, before Adriana and Dawn's bravery — they started standing on the corner with their signs over the weekend — no one in Poway has seen anyone from the side of the Good and Just doing any direct marketing. Instead, the folks backing Prop 8 have been out in force with their giant yellow signs emblazoned paradoxical slogans. (According to them, Prop 8 will protect free speech. That's the sort of legal logic that the geniuses at the Alliance Defense Fund use, which may be why they lose every court case they're involved in.) So, my lesbian pals decided that they needed to rep-re-sent!
I must admit I was nervous. The "Yes on 8″ wackos have been out in force over the last few weeks, and some of them have been violent when confronted with people they disagree with. (By the way, hate crimes against gay people are on the rise.) And when I drove up to the corner, I saw a horde of Yes-ees walk past Adriana and Dawn and cross the street to man their corner. Happily, Adriana and Dawn had their own horde. I parked by the Outback Steakhouse — there were a lot of "blooming onion" jokes that night — and spent five minutes or so making my sign. (I had driven down the No HQ in Hillcrest to get some official signs, but they were out. Which is a good, uh, sign. Ha.) My Sharpie kind of sucked on my lame Rite-Aid poster board, but it did the job well enough, I guess. In fact, I think that having mostly home-made signs made us look a lot more emotionally invested in our position than the Yes-ees, who looked a lot like they were an over-funded guerrilla marketing team hired by an anti-gay corporation. Oh, wait. That would be the Church of Jesus Christ and Latter Day Saints.
Adriana had a sign that said "HONK FOR EQUAL RIGHTS" and, wow, that sign is probably the reason that I felt so darned good while I was out there. And by "darned good," I mean fabulous! People honked and honked and honked. People stopped and asked when we would be there again, because they wanted to join us. People parked, made their own signs, and joined us. Teenagers drove by and cheered. Old ladies cheered. Mexican-Americans honked. African-Americans honked. Asian-Americans honked. Guys in convertible BMWs cheered. Ladies in SUVs cheered and honked.
Know hope.
The Yes-ees didn't have a "Honk for Hate!" sign — since all of their signs were from the official campaign, which, by the way, outsourced the printing to China, the land of the free — so they didn't get many honks. They got some. But it was hard to tell who was honking for whom when the honking car was on the other side of the street.
Now, we did get some nasty people. I counted three middle fingers and several more downed thumbs. To them, we shouted, "Jesus loves you!" and waved, which probably annoyed them a lot more than if we had responded in kind. But no one yelled at us. People did yell at the Yes-ees, though. One lady in a HUGE Suburban screamed at them for the entirety of a red light and kept screaming as she drove away. Her teenage daughter in the front passenger seat was mortified. Ha.
At 6:30pm, the sun was below the horizon and people started going home. Babies needed to be fed, and rehearsals needed accompaniment. (Gay!) Since we were on the corner where the parking lot was, the Yes-ees had to pass us to get to their cars. I tensed up. Which I didn't need to. They all said, "Good evening!" and "Have a great night!" and "See you later!" (Earlier, I heard, when they arrived at the intersection, they told Adriana and Dawn, "Good luck!") One guy stayed on our corner with us and held up his sign — he seemed to be waiting for his teenagers — and joked with us. I'm stereotyping, I know, but I was convinced these Yes-ees were Mormons. No one else is that polite to their enemies.
Tonight, I will be joining fellow grad students on my corner in La Jolla, waving signs to remind La Jolla's drivers that we're here, some of us are queer, and we should all be fighting for equality.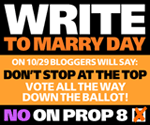 Note: This was my "Write to Marry Day" post. Click on the logo to the left to see the other 200 posts!

Tagged with blooming onions, free speech, honking, Poway, Prop 8
4 comments